Maldon walk - Northern mines
Eagle Hawk district, Union Hill mine, Battery, Alliance mine, Railway and Beehive <2 km walk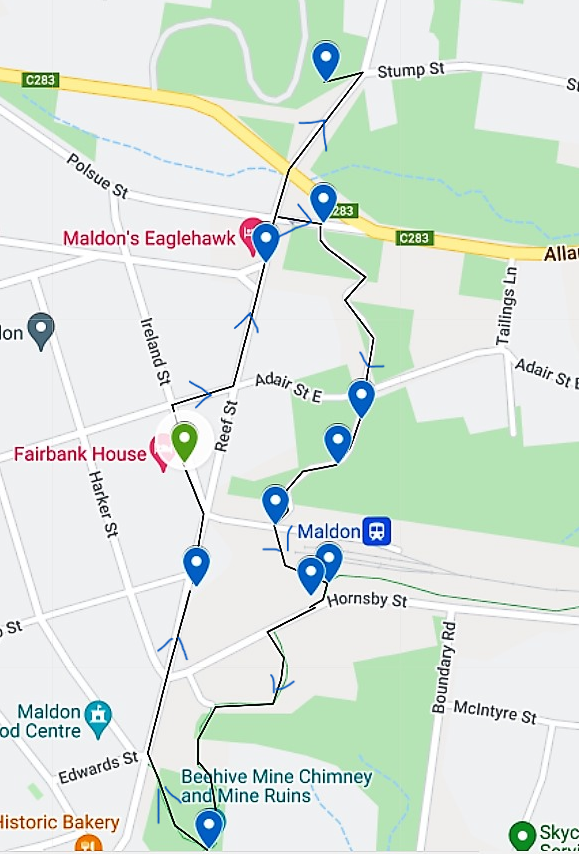 Volunteers, including Lee Mead, produced a pamphlet of three walks that encompass the mines within the Maldon township. It's available at the Visitors Information Centre. This wander is adapted from their work.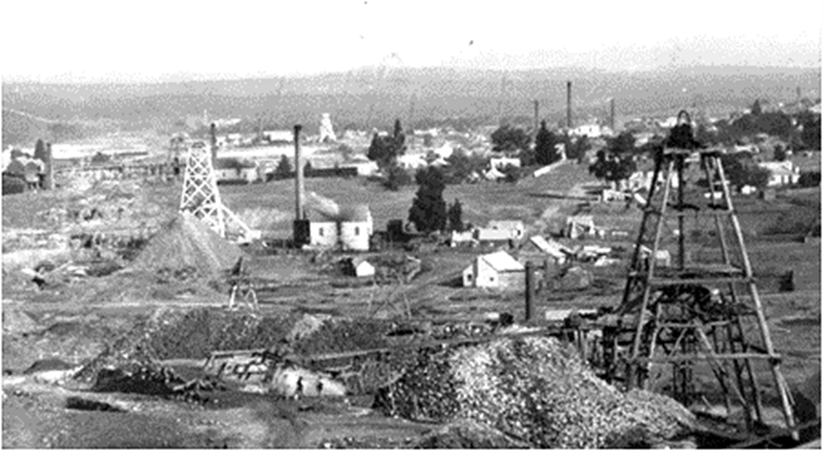 Despite its timeless looks, Maldon is anything but static, and Eagle Hawk is a good example. The northern Maldon suburb took its name from diggings along the foot of the Nuggettys which extended east for a couple of kilometres to the pre-gold Porcupine settlement.. Reef Street was originally Eagle Hawk Road, The Eagle Hawk neighbourhood of 1864 boasted a school, churches and a synagogue, and a number of public houses, including Chinese and a German club or vereine. There were shops, service providers, and of course, mines. This picture is from a poppethead, looking back at busy Maldon.
Established in 1854, the Eaglehawk hotel in Reef Street was purchased in 1862 by Frederic Courtin, a Maldon mayor and leader of the German community. His establishment had 11 bedrooms, a bagatelle room, concert hall and stables. Prior to his purchase, Herr Courtin opened the Tarrangower Bathing Company's public baths in 1860, convienently opposite the hotel on land now part of Parks Victoria's Maldon walking/cycling trail. In a neat recycling plan, the baths used abundant pumped mine water to fill a 27m x 18m pool ranging from a metre to 2m in depth. There were screened areas for women, but no record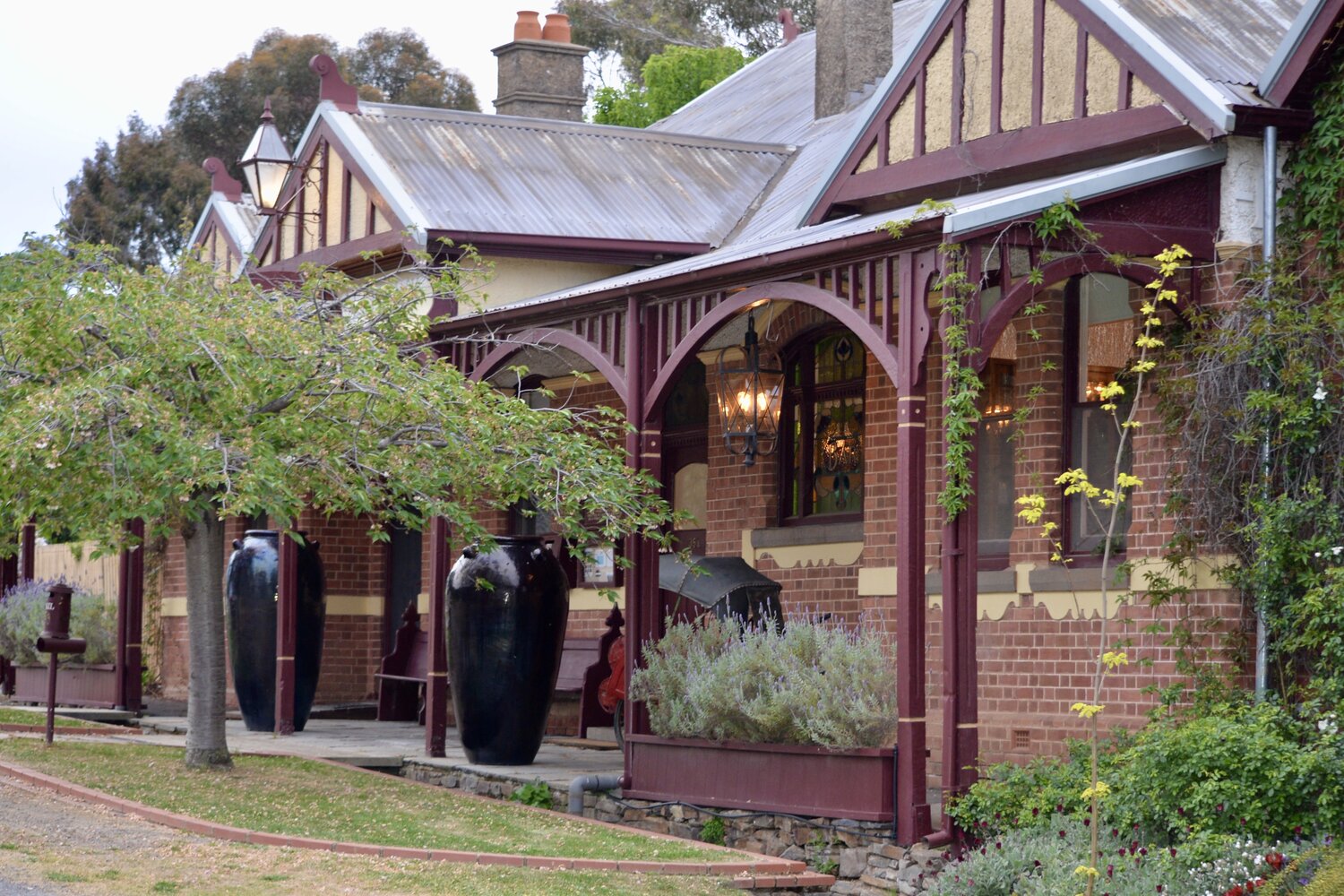 of any heating, so it may have been a summer sport.
Building materials for the Goldfields were costly imports. lightweight and portable wooden panels and sheet iron, that could be readily moved to follow the rushes. Local bricks and lumber were available, but it took decades to establish the manufacturing environment to fufil the colony's accommodation needs. But by 1906, when Courtin's public house burnt down, the Eagle Hawk district could boast a grand Federation style replacement to welcome its thirsty miners. A motel was added in the 1980s, Maldon's Eaglehawk Motel, https://www.maldoneaglehawk.com, changing owners in 2021 . The main building is a different business, a country holiday house and a bespoke wedding venue, and is very popular as such – www.eaglehawkhotelmaldon.com.au.
Continuing the walk along Reef St, cross over Lowther Street to the Union Hill mining site, with its labyrinthine underground mines, open cut, and vast riches. A hundred metres on, there's the carpark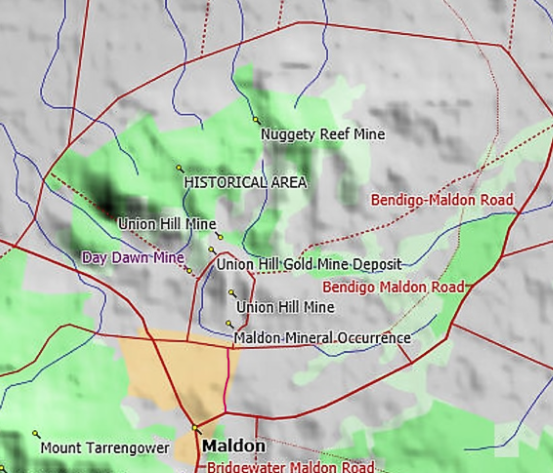 and the lookout for the Union Hill mine, operated currently by Kaiser Reef. It's both an open cut mine and its adit, or entrance is under Lother Street and the complex extends south at least to Phoenix Street.
Kaiser Reef's lease includes the rich Nuggetty mine on the north side of the range which produced 8.5 tonnes of gold at an average 187 grams per tonne a century past (Kaiser Reef, 2021). Union Hill and its siblings to the south produced a similar amount (300,000 troy ounces) just in the 199os. In all, the Nuggetty part of the Linscott's/Eaglehawk reefs produced 13.9 tonnes of gold and Union Hill adit reaches about 380 metres deep..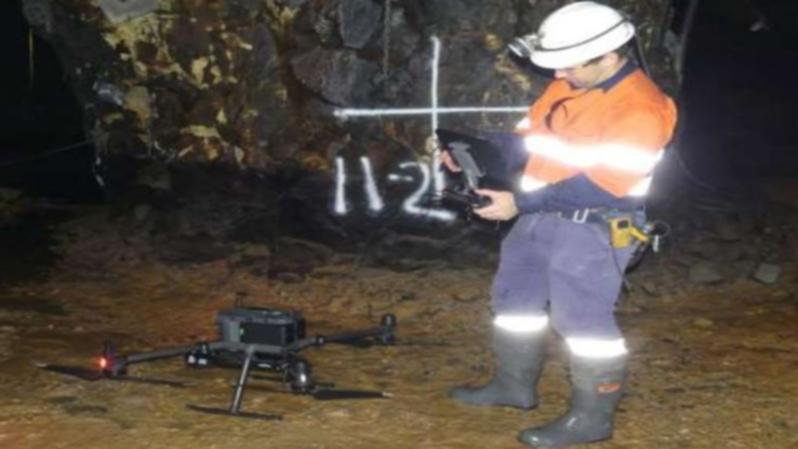 To penetrate these interlinking shafts and galleries, Kaiser's using underground drone mapping to build their spatial mine environment (https://www.kaiserreef.com.au).
The Linscott/Eaglehawk/Alliance reef, from the Nuggetty (north) end, was the 19th century home to the following mines: the principal mine was Eaglehawk Union or Union Association (5.5 tonnes of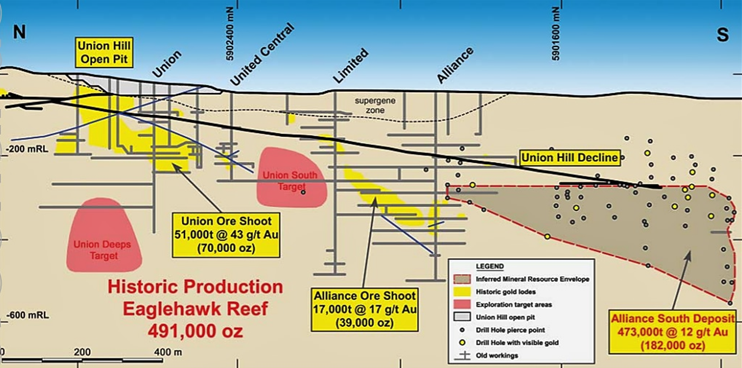 gold from 100000 tonnes of quartz), then United Central, Eaglehawk Limited, South Eaglehawk, Bells to the east and Alliance to the south. By 1876, these were Linscott, Eaglehawk United and Eaglehawk Union with Alliance's production fading at the south end. In 1861 Eaglehawk Union constructed two large quartz kilns for roasting the quartz for better stamping, since demolished by Triad Minerals in the early 1990s by strip mining. Alliance Resources bought the lease from Triad Minerals (including Porcupine Flat gold processing) in 1994 and sold its Maldon sites for scrip to Octagonal Resources in 2010. Octagonal folded in 2016, and the assets were purchased by Centennial Mining (delisted), finally bought by Kaiser Reef in 2021 for $7.5m. Following those ownership trails from 1858 to Triad's ownership should keep a forensic researcher occupied for years.
Water was a problem for all early Maldon mines, either insufficient during drought times (and late summer) for gold processing, or seepage flooding galleries below about 100 metres for the Eaglehawk reef set. (March 1978) A great many of our (Maldon's) engines are idle and the water is rising. The Linscott's, Eaglehawk United, and Eaglehawk Union Companies have now to battle with the whole of the water along the Eaglehawk and Linscott's lines of reef, and they find it an expensive item to deal with (Bannear 1993). Seepage continues: a
pipe runs alongside the railway and crosses under Hornsby St near the station, flowing (sometimes) into the Diggings. It reportedly comes from the Nuggettys' old mines, presumable Union Hill. This picture from the Victorian Historical Mine Shaft Chasers at Daylesford.
Between 1988 and 1992, an open cut mine operated here. In 1995, underground mining recommenced when a 3 x 3m decline was dug using some of the original tunnels. The decline opening can be seen from the lookout platform and runs from here under the Maldon Diggings to Phoenix St.