A grand day's wander - mixing art and agriculture
Western Australia is big, and so are their ideas. The notion started in Western Australia when an art group, Form, approached the Cooperative Bulk Handling Group for access to their grain silo at CBH Avon (Northam). A Commonwealth grant later, the artist tourism trail started with a multi-silo operational site painted by street artists Hense (USA) and Phlegm (UK) in March/April 2015 (publicsilotrail.com).

Photo courtesy: https://www.northam.wa.gov.au/recreation-attractions/art-culture-heritage/silo-trail.aspx
The collaboration continued with CBH Ravensthorpe's silos (near Esperance; September 2016) and CBH Merredin (August 2017). This initiative was swiftly adopted/copied by other wheatbelt states, including Victoria.
The (Official) Silo Art Trail
To put its little towns on the art tourist map, Yarriambiack Shire produced plans in 2015 for a 200km silo art trail stretching from Rupanyup to the south to Patchewollock in the north. The project was initiated by Shaun Hossack of Juddy Roller Studios (Melbourne) and Guido van Helten. Funding came from the state and federal governments ($200,000 each, $5000 each from the Council and Grain Corp, the east coast bulk grain handler), and Grain Corp donated the (lend of) the silos (https://www.graincorp.com.au/silo-art/). Grain Corp partnered with the West Australian organisation, Australian Silo Art Trail (https://www.australiansiloarttrail.com/ launched 2018) for promotion but apart from that link, others 'own' their silo art. Nevertheless, Yarriambiack claimed the trademark of 'Silo Art Trail' in 2017, despite the opposition of Grain Corp (and presumably the wannabes who sprang up online).
Brim (Grain Corp) was first in Victoria with its silo at 1991 Henty Highway. Melburnian street artist Guido Van Helten painted four generations of a local farm family in December 2015. It's 2 hrs 30 mins from Maldon (Visit Victoria pic 2016; 2nd direct May 2021)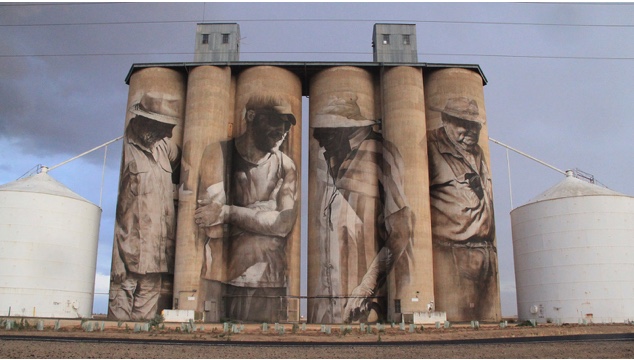 Photo courtesy: https://www.visitmelbourne.com/regions/Grampians/Things-to-do/Art-theatre-and-culture/Public-art/Brim-Silo
Second in the Victorian art silo series was Patchewollock 88 Cummings Rd - Fintan Magee from Brisbane finished this portrait of Nick Hulland in October 2016, 3 hrs 20 mins from Maldon (Visit Victoria 2016; direct May 2021 showing significant fading).
The 3rd according to Yarriambiack Shire was the Sheep Hills Grain Corp silo at 445 Sheep Hills-Minyip Rd by Melburnian Matt Adnate (international artist). Matt commemorated the Barengi Gadjin community elders Ron Marks and Regina Hood and two anonymous children. This was completed December 2016 (2hrs west from Maldon) (pic Visit Melbourne 2017, direct May 2021, minimal fading)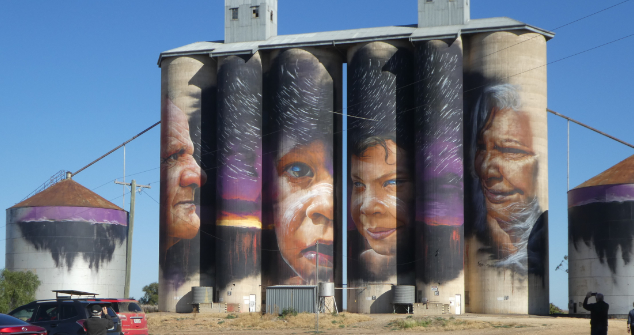 And 4th according to Yarriambiack Shire (who should know) was Rupanyup, 1 Gibson St - Julia Volchkova, Russian street artist, took 2 weeks finishing in April 2017. She painted local sportspeople, Ebony Baker and Jordan Weidemann. This bookended the Shire's trail, with Patchewollock's art northernmost, and Rupanyup's at the southern end (ABC pic 2017; May 2021, no fading). Rupanyup is 1 hr 45 mins from Maldon.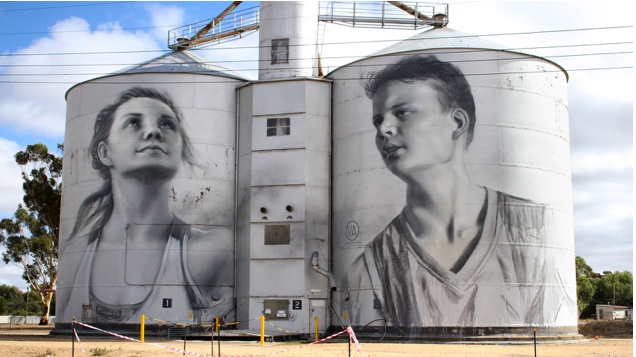 5th Lascelles. Lascelles Silo Road, off Sunraysia Highway. Painted by Rone (Tyrone Wright) from Geelong in July, 2017. Subjects are Geoff and Merrilyn Horman. This is more enigmatic than the others because the couple are on opposite ends of the silos and can't be seen together. Or photographed, as one or the other must be in shadow. Further, the paintings are fading, particularly Geoff's which is facing north across the carpark (pics, juddyroller.com.au 2017, direct May 2021.
6th of the Shire's endeavours and also for Victoria, on the railway silos next to the Henty Highway, the Rosebery mural was painted October/November 2017 by Melbourne female artist, Kaff-eine, who came to the Wimmera Mallee with fellow artist Rone (Lascelles, no. 5). There are two anonymous images – one of a young female farmer in a work shirt, jeans and cowboy boots and one of a horseman in an Akubra hat, Bogs boots and an oilskin vest, with his horse. It's 2¾ hrs from Maldon. (pics Wimmera Times 2018).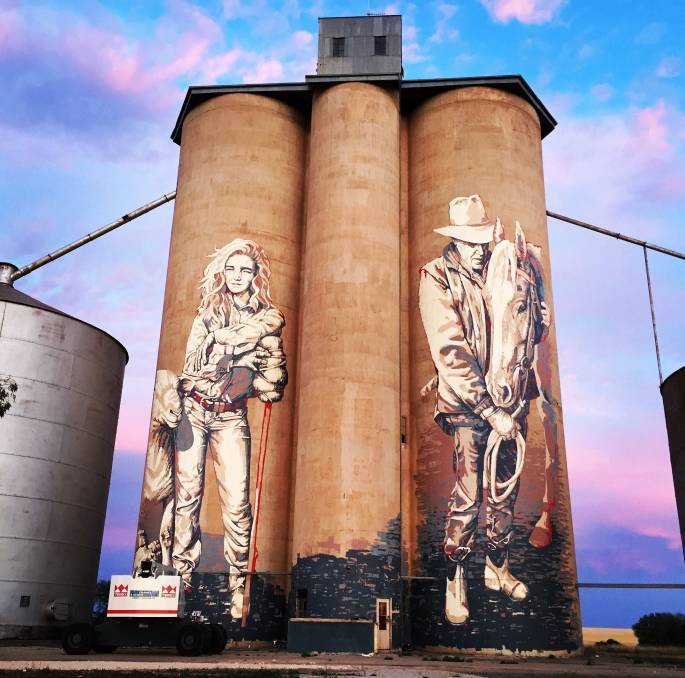 So leaving the fraught title 'Silo Art Trail' aside, what happened then?
The (western Victoria) Silo Art Trail
The Silo Art Trail concept is being extended by the Wimmera-Southern Mallee tourism entities through the local governments of Horsham as hub, West Wimmera, Hindmarsh, Yarriambiack, Northern Grampians and Buloke abutting Greater Maldon (Loddon-Mallee). They are all aiming. according to Juddy Roller's Shaun Hussock, in 'creating the world's largest outdoor gallery' (Weekly Advertiser 28 April 2021).
That would be West Wimmera Council, west of Rupanyup, with Goroke, Serviceton and Kaniva. In October 2018, the Council received funding of $102,100 for silo art at Goroke and $199,600 for silo art at both Serviceton and Kaniva. These are GrainCorp silos, so Yarriambiack can't be its favourite shire now. In October 2020, painting started at GrainCorp silos at both Kaniva and Goroke.
Kaniva is on the Western Highway, 3¼ hours from Maldon, near the South Australian border. Its silo, the 17th in the Victorian art silo series, is in Progress Street, and the iconic images from the Little Desert were painted in 200 hours by David Lee Pereira and Jason Parker from Melbourne, finishing in October 2020. The painting depicts a falcon, the Australian Hobby Bird, To the left of the bird is the plains sun orchid (Thelymitra megacalyptra) with the salmon/pink sun orchid (Thelymitra rubra) on the right (Australian Silo Art Trail pic).
Goroke, 18th Victorian art silo site, is south of Kaniva. Its silo is in Railway Street, and Goroke wanted their birdlife exhibited – a magpie, kookaburra and galah. 'Goroke' is the local Aboriginal word for magpie, so the native birds were a great fit for the design. The silos were painted by bird artist Geoffrey Carran from Jan Juc between late September and November 2020, and both the kookaburra and magpie are more than 10 metres high.. It's 3 hours from Maldon on the way back from Kaniva (West Wimmera Times 2021).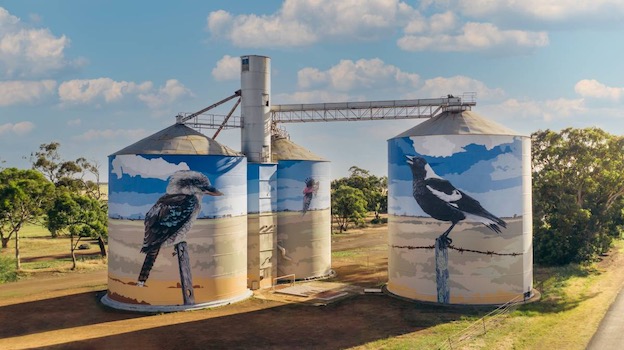 Serviceton's a laggard – something to do with power cables. But the money's on the table.
At 20th on the Victorian art silo list, Albacutya is a whistle stop north of Rainbow (10km) in Hindmarsh Shire. As part of the Trail, farmer Adam Gould's grain silos were selected in 2020 and funded by the State government. Kit Bennett from Melbourne was commissioned to produce a painting in a fun, quirky, colourful and exciting style to attract the family touring market. The artist referenced his work to growing up in the bush and finished it in May 2021. It's a smidgin under 3½ hours from Maldon (Pic. Australiansiloarttrail.com.au)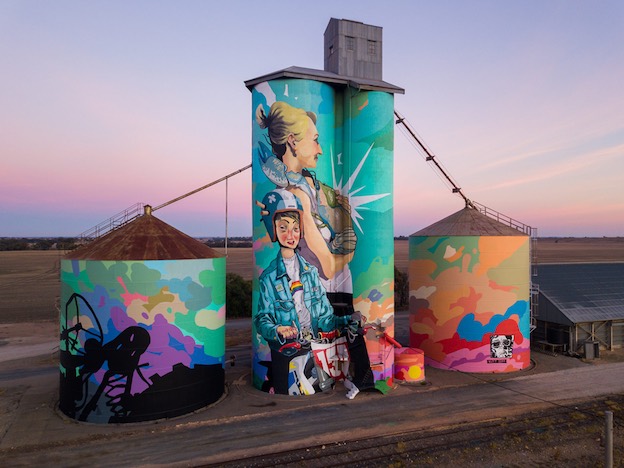 Two projects in the planning are Rainbow, where Llewellyn Schilling's silo in Railway Street will be turned into the first inside-out painted silo. Purpose? Tourists to pay to see inside, Maybe they are trying to talk him out of it, or at least paint both sides. Besides, it's dark in there (pic. ABC, June 2021).
The second is Horsham Rural City Council, which is using the Plazzer family's silo and flour mill in Hazel Street to portray the story of the Cooper-Duff children who were lost in the Wimmera scrub for 9 days in 1864 and the Aboriginal tracker Yanggendyinanyuk who found them, and went on to a career as a cricketer. Funding through the Plazzers, the Barengi Gadjin Land Council and the three government entities (Council website, January 2021; National Library of Australia).
Closer to Maldon. and in August 2020, 16th town in Victoria to get a painted silo, St Arnaud artist Kyle Torney reflected the gold mining history of his home town of six generations of Torneys; probably with the most biblical interpretation, or at least flowing robes. Situated at 3 McMahon St, 67 minutes from Maldon according to Google, and titled 'Hope', Kyle has told the story of three pioneer residents. During the 1800's 'Hope' references a miner looking for a fleck of gold in his pan, 'Hope' for his wife for food and clothing for her family, and 'Hope' that a young child will prosper.
The 21st for Victoria is at Avoca, 2 Station St. The only proper silo in the Pyrenees Shire was privately owned, and Pyrenees Shire and GrainCorp are purchasing it to complete the mural (July 2021). Apparently the Council received funding for the project in 2018, but it wasn't used until 2020. Jimmi Buscombe from Warrnambool rendered an Australian barking owl in April 2021 (didn't know about Goorambat, April 2018) and planned for a brush-tailed phascogale (possum) on the second silo. The Shire wants to put it on the Australian Silo Art Trail (pic) They really should read the fine print on that one.
The proposed Mallee Track Silo Art Trail
Mildura Regional Development is proposing a Remembrance Silo Art Trail along the Mallee Track stretching west from Ouyen to Panitya on the state border (April 2021). The plan is to have up to 10 silo sites painted with military themes designed by veterans.
The Calder/Murray Silo Art Trail
First, silos connected to the Calder Highway, paralleling the Mighty Murray.
Sea Lake's Grain Corp silos at Railway Avenue, 2½ hours from Maldon, were painted by Joel Fergie and Travis Vinson from Brisbane in October 2019, making this the 14th art silo site in Victoria. The design shows a young girl swinging from a Mallee eucalyptus looking over Lake Tyrrell, and a big open sky which gradually fades from dusk to night. There appears to be a mirage around the girl's head, maybe her recollection of the lake at noon. Go check it out (Wimmera Mail-Times 2019; direct May 2021). Sea Lake-ians have a thriving painting scene going, so there's plenty more to discover.
The 13th silo art installation for Victoria was claimed by Nullawil in Buloke Shire, 26 Calder Highway, a half-hour from Sea Lake and thus 2 hours from Maldon. From 5-18 July 2019, artist Sam Bates (a Sydneysider living in Scotland) produced an anonymous (?) farmer and his dog, Jimmy, at a cost of $115k plus Grain Corp's silo (Bendigo Advertiser 2019; direct May 2021, some colour fade).
Back to the Murray Valley, this time in Campaspe Shire, Rochester was the 10th Victorian silo art site at 18 Ramsey St., when its dairy processor closed down and it needed a boost. In June 2018, graphic artist Jimmy Beattie (Dvate in his street art guise) painted a squirrel glider on the disused Grains Corp silo, with an azure kingfisher looking out over the Campaspe River and the town's iconic red bridge. There's a platypus mate showing up in October 2021 as well (pic VisitVictoria). Rochester's 1¼ hours north of Maldon.
Northern Victoria Silo Trail?
Central Victoria is ideal as a base for Silo Art Trail buffs. Northeast of Maldon, there's a grand day's wander (or 2) to be had over towards Shepparton, and Moira Council territory. Local governments are a big driver of silo art, and compete vigorously for funding. For instance, Echuca (Campaspe Shire) missed out on funding in favour of Picola – in neighbouring Moira Shire. Wedderburn (Loddon Shire) only has five building walls, no silo funding.
Colbinabbin (Campaspe Shire) has a mighty offer for the discerning viewer looking for the 15th site on the Victorian silo art series. The Grain Corp silos in Station St. are 1¼ hours from Maldon. Renowned mural artist Tim Bowtell (Benalla) spent almost three months to May 2020 painting the silos: farmers' picnic on the hill (late 1800s), past train and railway station depictions, 'Lulu' the 1947 Austin fire truck, the recreation reserve, and 'Black Velvet' from the Colbinabbin tractor pull (late 1980s). The artist was mindful of fading and used house paint, predicting 20 years between touch-ups (pic.VisitMelbournne.com).
Arguably the best silo art (19th) is in the aforesaid Picola (near Nathalia), at 26 Moran St. Our friend Jimmy Beattie, now D'Vate (was Dvate before he went corporate), of Rochester silos fame pictured a Superb parrot, an ibis, and a wallaby drinking in the Barmah Forest, finished in December 2020. The operational silos are on private land, but accessible by viewers. The price is coming down – the State government put in $53000 and the locals (Shire, Bendigo Bank, donations) had to produce the rest. Picola is the northernmost of the three silo trail, 2¼ hours from Maldon (pics Visit Victoria; Exploroz).
Tungamah silos at Middleton St are owned by the Cooper family who funded the first stage in 2017, making this the seventh site in Victoria. Moira Shire got the kudos. West Australian street artist Sobrane Simcock was commissioned to paint the locals' choice, birds. First she sketched dancing brolgas and a kookaburra, finishing in February 2018 following public funding with a galah, fairy wrens, ibis and a blue kingfisher in October 2019. This silo was the beginning of the north-east Victoria Silo Art Trail and Sobrane claimed the first Australian female silo artist – the Russian Julia Volchkova's at Rupanyup. However, Kaff-eine of Rosebery fame, may not have citizenship. It's 2¾ hours from Maldon, and Tungamah, Moira Shire, is to the north of the 32 km tiny trail (pic. sobrane.com.au.)
Saint James, 21 Devenish Road, (Grain Corp silos), south of Tungamah, was the 11th silo site in Victoria. It was painted in April 2019 by Tim Bowtell (Benalla) and profiles GJ Coles of the supermarket fame. His family opened their first store here, relocating to Collingwood after World War 1. Besides the Coles connection the storyline shows the transport links over the generations. Funding came from residents, Moira Shire, Coles and Grain Corp. It's 2¾ hrs from Maldon (pic. Northern Community new).
Part of the Grain Corp silo trail and ninth site in Victoria, the Devenish silos artwork at 33 Main St Devenish, was unveiled by Moira Shire on 24 April 2018 for the centenary of the end of World War 1. It's southernmost on the tiny silo art trail and the eighth Victorian art silo site. These were painted by Melburnian Cam Scale (from Juddy Roller studios). The work shows the evolution from 19th century nursing to 21st century healthcare professionals, plus a Light Horseman added by Cam in April of the following year. It's 2¾ hours from Maldon, same distance as Nhill (GrainCorp pic).
Southernmost on the tiny trail and eighth Victorian site, Goorambat silos on Halls Road are owned and operated by the Greaves family. The University of Melbourne's Faculty of Veterinary and Agricultural Sciences (at nearby Dookie) sponsored two murals in Goorambat by Jimmy Beattie-DVate to depict Millibar, the barking owl, resident of Healesville Sanctuary, and her local habitat. The project was launched 8 April 2018, as part of the Benalla street art festival, as Goorambat is in the city's local government borders. Presumably funded by the next festival in April 2019, Jimmy produced iconic Clydesdale horses, Clem, Banjo and Sam, to finish the set. It's 2¾ hours from Maldon – time to head west (pics from justmetravel. imagesofoutbackaustralia).
Not on the Silo Art Trail
Woomelang's Now you see it, now you don't, 2020 mobile silo art. Woomelang's in the Shire of Yarriambiack, where silo art is more a legal wrangle than opportunity.
Brunswick, Tinning St, 12th silo painted in Victoria. May 2019. Painted by Loretta Lizzo (Gold Coast) for a private group using crowd funding ($11000) for a depiction of New Zealand's Prime Minister hugging a Muslim woman after the Christchurch bombings in March 2019. Silo owner unknown, Moreland City Council (pic. The Age) .
Nylex silos in inner-city Cremorne. 2018.
Section 2
Section 3
Section 4
Section 5