History
The land on which Fairbank stands was purchased in 1865 by John Nankivell, a miner, whose brother, Robert was a surveyor in town and who was also renowned for having 21 children. There was a wooden building on site, probably the current dining room due to the condition of its fireplace, long since repaired. Maldon Council rates were 15 pounds which indicated a substantial building for the time. John sold to David Williams in 1873, and David reported on social club activities for the Tarrangower Times.
William and Alice Berryman purchased Fairbank (calling it by a fashionable Rose prefix of Rosebank) in 1887, and William took out a mortgage in 1894 to purchase and refurbish a boot shop at 30 Main St (now Berryman's tearooms). In 1895 the Main St property had risen in value due to redevelopment, whereas there was no rise in Ireland St, and there the story wanders off the Maldon Museum's records.
Rosebank arguably was fully established by this time. The existing dining room at Rosebank was then a kitchen, with its bread oven and open fire place with a trivet for cooking. The room had two entrances, the front door and another to the east, entry from a path coming up the side of the house. In the 19th century, prone to fire, kitchens and 'wash houses' were separated from the main house by a 'breeze way' - a verandah.
In 1927, the Berrymans bought the block next door (7 Ireland St) and built a substantial building but William died in 1929. Alice sold both blocks in 1939 to George and Edith Grigg, retired poultry farmers from neighbouring Porcupine. Edith died in 1945, and George remained in the house for another five years. Fairbank passed to his daughter and her husband, Vera Alice and Albert James (Jim) Taylor.
The Taylors had three children. Jim was of some status in Maldon, President of the Easter Fair, President of the Maldon Football Club and the Maldon Brass Band Leader. 'Rosebank' lost its name when someone broke the ruby glass above the front door. The house was now 'the Taylor place' - still no street numbers - and quite a social centre. Football club celebrations, Easter Fair planning, band practice (?!) and many family celebrations occurred around the billiard table that Jim installed in the old kitchen.
The Taylors sold the house in the 1970s to Roma McCubbin from Bendigo, and it was acquired in 1981 by the present owners. Coming from Bendigo, Waddingtons have a similar story as the Berrymans, where the family home was called, fashionably, 'Fairbank'.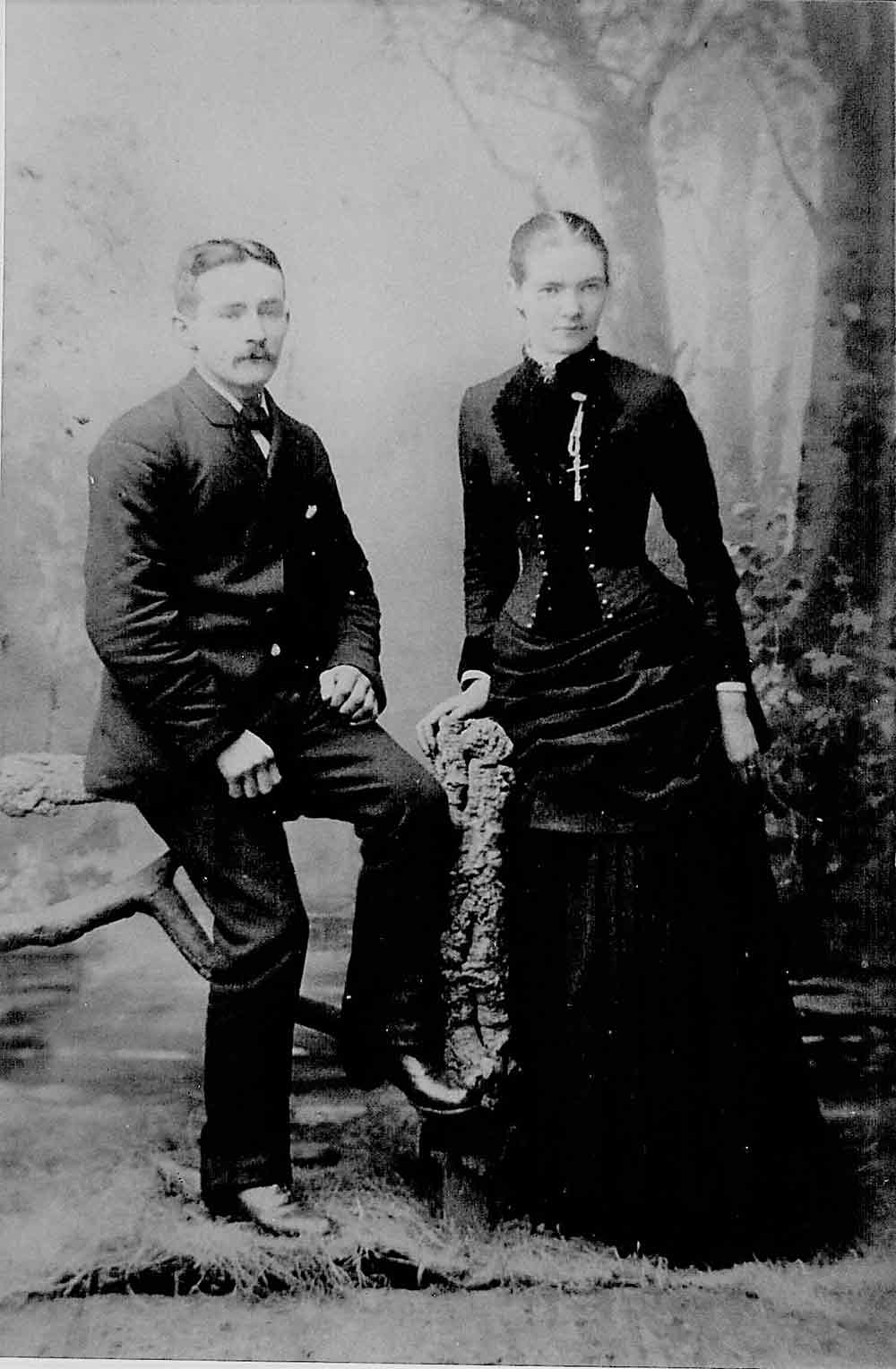 William and Alice Berryman